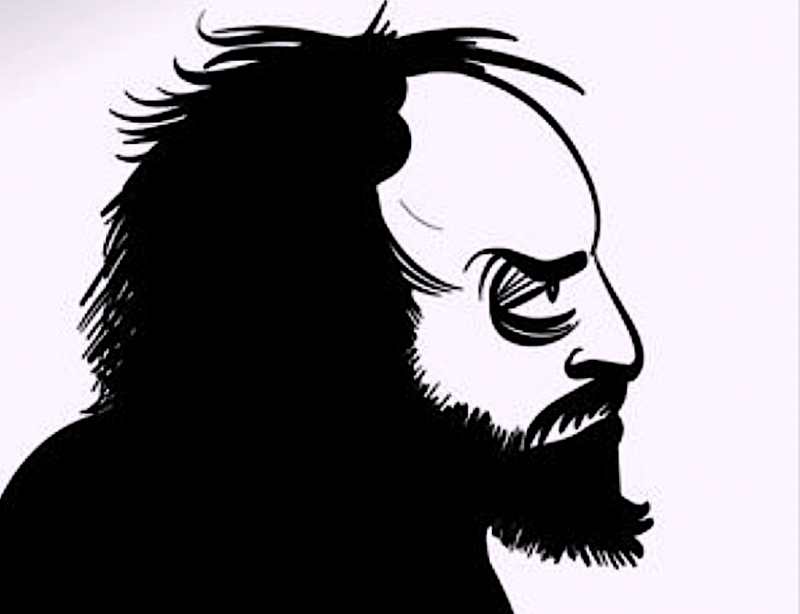 We remember Stanley Kubrick as the archetypal cinematic auteur. Though all hugely collaborative efforts, could any of his films have been made without his presiding authorial intelligence? Certainly none could have been made without his eye for literary material. Kubrick usually began his projects not with his own original ideas but with books, famously adapting the likes of Vladimir Nabokov's Lolita and Anthony Burgess' A Clockwork Orange, continuing the practice right up until his final picture Eyes Wide Shut, an adaptation of Austrian writer Arthur Schnitzler's 1926 novella Traumnovelle, or Dream Story.
But Traumnovelle, it turns out, wasn't the only Austrian novella of the early 20th century Kubrick worked on adapting for the screen. A recently discovered "lost" Kubrick screenplay, writes the Guardian's Dalya Alberge, "is so close to completion that it could be developed by filmmakers. Entitled Burning Secret, the script is an adaptation of the 1913 novella by the Viennese writer Stefan Zweig. In Kubrick's adaptation of the story of adultery and passion set in a spa resort, a suave and predatory man befriends a 10-year-old boy, using him to seduce the child's married mother." Kubrick wrote the script in 1956 in collaboration with Calder Willingham, with whom he also wrote Paths of Glory, which would become his fourth feature the following year.
The studio MGM, Alberge writes, "is thought to have cancelled the commissioned project after learning that Kubrick was also working on Paths of Glory, putting him in breach of contract. Another account suggests that MGM told Kubrick's producing partner James B. Harris that it did not see the screenplay's potential as a movie." She also quotes Nathan Abrams, the film professor at Wales' Bangor University who recently found the Burning Secret script, as saying that "'the adultery storyline' involving a child as a go-between might have been considered too risqué" back in the 1950s. Since Kubrick could "only just" get Lolita through in 1961, this "inverse of Lolita" may not have had much chance half a decade earlier.
Zweig, one of the most popular writers in the world in the 1920s and 1930s, has already inspired one film by an American auteur: Wes Anderson's The Grand Budapest Hotel, which came out in 2014. Not only are several of its characters modeled on Zweig himself, it has the same structure of stories nested within stories that Zweig used in his writing. "It's a device that maybe is a bit old-fashioned," Anderson said in a Telegraph interview, "where somebody meets an interesting, mysterious person and there's a bit of a scene that unfolds with them before they eventually settle down to tell their whole tale, which then becomes the larger book or story we're reading." Usually, heightening the confessional mood further still, the teller has never told the tale to anyone else. Hence the burning nature of secrets in Zweig — and hence the fascination of Kubrick's cool, controlled cinematic sensibility interpreting them.
Related Content:
Lost Kubrick: A Short Documentary on Stanley Kubrick's Unfinished Films
Napoleon: The Greatest Movie Stanley Kubrick Never Made
Stanley Kubrick's Annotated Copy of Stephen King's The Shining
Stanley Kubrick's Jazz Photography and The Film He Almost Made About Jazz Under Nazi Rule
Stanley Kubrick Explains the Mysterious Ending of 2001: A Space Odyssey in a Newly Unearthed Interview
Based in Seoul, Colin Marshall writes and broadcasts on cities and culture. His projects include the book The Stateless City: a Walk through 21st-Century Los Angeles and the video series The City in Cinema. Follow him on Twitter at @colinmarshall or on Facebook.
Stanley Kubrick's "Lost" Script <i>Burning Secret</i> Surfaces, Complete Enough to Make into a Film is a post from: Open Culture. Follow us on Facebook, Twitter, and Google Plus, or get our Daily Email. And don't miss our big collections of Free Online Courses, Free Online Movies, Free eBooks, Free Audio Books, Free Foreign Language Lessons, and MOOCs.
The post Stanley Kubrick's "Lost" Script Burning Secret Surfaces, Complete Enough to Make into a Film appeared first on IACCCE.
The post Stanley Kubrick's "Lost" Script Burning Secret Surfaces, Complete Enough to Make into a Film appeared first on House Of Harmony.
Source: http://houseofharmony.us/feed